Forest Ranch California
Big Chico Creek Canyon near downtown Forest Ranch
Forest Ranch is a charming northern California foothill community located in Butte County. Just 12 miles east of Chico via scenic Highway 32, Forest Ranch is situated in a beautiful forested area of pine, fir, cedar and oaks near the terminus of the Cascade Mountain Range and the beginning of the Sierra Nevada Mountain Range. The ridge on which Forest Ranch resides represents the northern boundary of the Mother Lode Country. To the north lies the volcanic deposits of what was once Mount Tehama (today it's base includes Brokeoff Mountain and Lassen Peak).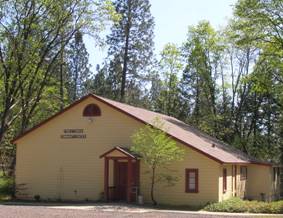 Community Center
In 1864, when the Humboldt Wagon Road was completed by the Chico and Humboldt Wagon Co. and opened for stage and wagon traffic, between the Sacramento Valley and mining settlements to the east, the hamlet found it's roots. Lumber mills and stage stops dotted the ridge. Early stage stop locations may be identified at 10 Mile House Trail and 14 Mile House (Humbolt Highlands). Several small community endeavors were transformed into Forest Ranch in 1878 when a post office and school district were established. Lumbering and truck gardening were the early industries of Forest Ranch.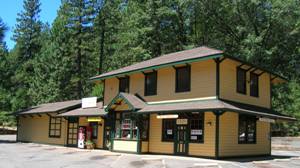 Train Depot building
With only 132 people in the 1960 census, the town was about to witness an influx of new residents and building activity, along with a growing sense of community. The community members of Forest Ranch, the Forest Ranch Women's Club, and later the Forest Ranch Community Association were extremely instrumental in facilitating significant enhancements to the community, leading to improved livability. Some of these improvements included a dramatically superior highway (which replaced the very winding Dear Creek Hwy - circa 1970), building of the Volunteer Fire Station (circa 1979), and purchasing the former one-room schoolhouse in 1994 to house the Forest Ranch Community Center. In 2008, due to the Chico Unified School District budget crisis and subsequent school closure, the community once again banded together to established Forest Ranch Charter School and maintain the 129 year tradition of providing local elementary education.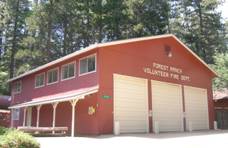 Volunteer Fire Department
With an improved highway, local fire protection, active Community Center, successful Charter School, and several local service organizations and businesses, Forest Ranch today is essentially a "bedroom" retirement community with a population of approximately 2,000. Residents of Forest Ranch have varied backgrounds and interests, but have a common appreciation of the area's natural beauty and community pride.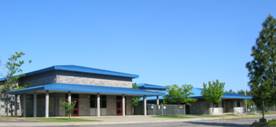 Forest Ranch School(1991)
Recourses: John Nopel, Elizabeth James, Gail Wellman, Jim Crane, Chips Ross, and Kiersten Morgan.
Community Information:
Schools:
Forest Ranch is part of the Chico Unified School District and has a public K-6 elementary charter school. Forest Ranch is also within the Marsh Junior High and Chico Senior High boundraries.